When farmers grow crops, they already know that irrigation is key to getting the highest possible yields. This is hard and time-consuming work, which often uses a lot of water. To grow crop the most efficient way it is important to know how to handle the water usage accordingly.
With the sunlight pump, farmers can pump up to 25'000 litres of water per day, using only the power of the sun. This water can be stored in tanks to use it throughout the day for varying different options, like irrigation for their crop. After storing the water, it is still important how exactly you are going to water your crop. In recent years studies have found that sprinkler or drip irrigation systems enable higher crops yields using less water.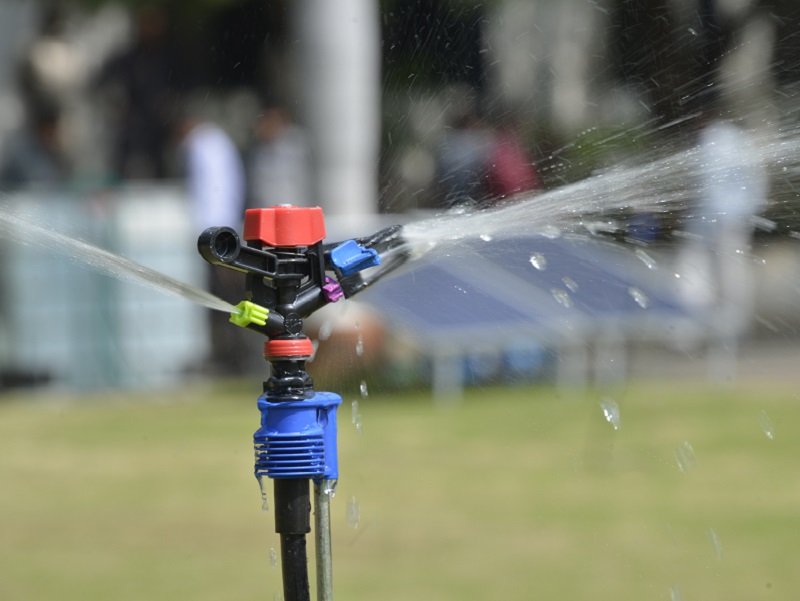 The sunlight pump in combination with a sprinkler irrigation system is one of the most efficient and easy to set-up irrigation system.
The sunlight pump is ideally suited to power several 2'000 m ² sprinkler kits. The sprinklers can reduce irrigation water usage by as much as 50%, compared to flood irrigation and the yields will be up to 150% higher. With this combination of the sunlight pump and sprinkler lines it is even possible to irrigate large areas of fields without manual labor, which will give you more time to do other activities on and off the farm. An advantage of automated irrigation is that crops receive only the water they need. This benefits the crops, which can yield better quality produce and the water source, which does not get overused.
ennos is working with its production partner Jain Irrigation Systems Ldt. to offer complete solutions for farmers, which include the sunlight pump and the appropriate sprinkler or drip systems for each farmer. We want to offer farmers irrigation systems which will work smarter, not harder.